Making the Visual Record: Images of the Eastern Archipelagos of Southeast Asia
Heather Sutherland
This essay contextualises the images which appear in the main Seaways and Gatekeepers website. Particular attention is paid to the makers of the pictures, the people themselves, within the framework of evolving printing technologies. Both this paper and the website itself can do no more than offer an introduction to the wealth of illuminating material available.
Sponsored Science in the Dutch East Indies
I would like to express my appreciation of those people and organisations which make it possible to access so much material online. Among these are the following collections:
AMH, Atlas of Mutual Heritage, the Netherlands;

ASM, Amsterdam Scheepvaart Museum (Amsterdam Maritime Museum);

Biblioteca Digital Hispanica, Madrid;

Gallica, Paris;

GVN, Geheugen van Nederland, the Netherlands;

KB, Koninklijke Bibliotheek (National Library), The Hague;

KITLV, The Royal Netherlands Institute of Southeast Asian and Caribbean Studies, Leiden;

LOC, Library of Congress, Washington;

NA, Nationaal Archief, the Hague;

NMVW, Nationaal Museum van Wereldculturen, The Netherlands;

NYPL. New York Public Library;

RM, Rijksmuseum, Amsterdam.

The Wellcome Collection, London

and the indispensable Wikimedia Commons have also been fruitful sources.

Publishers of online books provide invaluable resources; they include the Biodiversity Library, Delpher, Google, Gutenberg Library, HathiTrust, the Internet Archive and many University collections.
Making the Visual Record: Images of the Eastern Archipelagos of Southeast Asia
In the 15th century Europeans began seeking direct sea-routes to the fabled Orient, source of the most precious commodities. Portugal and Spain took the lead in long-distance voyaging, capitalising on their locations and greater access to Muslim knowledge. As these voyages of exploration probed the unknown, printing innovations increased dissemination of information to wider audiences, widening knowledge of the world and its peoples.
Woodcuts had been used in China since the end of the sixth century, block-books from the 9th. Around 1440 the moveable type press was developed, and within three decades printing establishments could be found throughout Europe.1 By the late fifteenth century wood-block printing was advanced in Europe, not only for art but also for practical matters such as navigational treatises.2 Until the twentieth century, printing was done by allowing or denying contact and transfer between surfaces. Height variations in a medium would ensure that selected sections would deposit (or not) marks on a surface. Similarly, resistant substances, such as wax or resin could prevent fluids – inks, dyes, acids - from reaching the recipient surface: paper or cloth, for example. In block-books the wood surrounding the lines of the image was cut away, creating relief. Later intaglio techniques, such as engravings or etchings did the opposite, cutting the design into the surface of the stamping medium, typically a copper plate. In etchings the metal plate was coated with a resistant medium such as wax or resin, into which the design was cut. The plate was then bathed in an acid, and the incised lines filled with ink for printing.3
Early maps were produced using both relief (woodblock) and intaglio (engraving, etching) methods. In the seventeenth century etchings became the favourite medium for distributing fine art. Older techniques were used alongside the new. Rembrandt, for example, moved between the newer technique of etching (using acid), and engraving, using both fine (burin) and rougher (drypoint) tools to incise designs.4 These methods remained basic to printing until the later 20th century. In 1590 Theodore de Bry of Frankfurt published his Collectiones peregrinatiorum in Indiam orientalem et Indiam occidentalem, XIII partibus comprehenso, or collected travels in the east and west Indies, including early (imagined) images of the America. This seems to have been the first travel book extensively illustrated with copper engravings.5
In this essay the focus is upon the period 1600 to 1900, and particularly on Dutch collections. During the 1600s Dutch institutions and individuals used new-found commercial and personal wealth to become patrons in a growing market for images, alongside the nobility and the church. The chartered Dutch East India Company or VOC (Vereenigde Oostindische Compagnie, United East India Company, est. 1602) was a notable commissioner of art and maps, as was its English counterpart, the East India Company (1600).6 Maps and charts were closely guarded inside information, crucial to exploration and competitive trade. In 1617 the Dutch East India Company appointed a master cartographer, Willem Janszoon Blaeu (b.1571-d. 1638); his maps were printed from engraved copper plates. He was followed in his trade by his sons, Cornelis and Joan (b.1596-d.1673). The VOC hired experts as required, but the Blaeu family enjoyed a privileged position; Joan became an examiner of the Company's navigators in 1658. His Atlas Maior of almost six hundred maps was published between 1662 and 1672,7 followed by the expanded and coloured Atlas Blaeu-Van der Helm. This evolved into a collection of some 2,400 maps. From 1692 the Atlas Izaak de Graaf, covering all VOC territories, remained the standard until the end of the Company in 1800.8
Johannes Vingboons (b.1617-d.1670) was another famous cartographer, draftsman and water colourist; he drew the known world without ever leaving the Netherlands.9
Drawing was a popular pastime and valued professional skill. Images were produced by VOC administrators, ambassadors and even soldiers. Like all sources, these should be viewed critically. Jing SungSun's thesis examines the "illusion of verisimilitude" in Joan Nieuhof's (b.1618-d.1672) account of his embassy to China.10
Between 1627 and 1631 Jacobus Bontius (b.1592-d.1631) was "physician, apothecary and surgical inspector" in all the VOC territories; his most famous engraving was the first image of an orangutan11, resembling a somewhat hairy woman. His durian was better.12
Georg Everard Rumphius (b.1627—d.1702) lived and worked in Ambon from 1654 to 1702. With the support of the VOC, the former Company midshipman and botanist produced the phenomenal D'Amboinsche rariteitkamer or Herbarium Amboinense, published posthumously in 1741.13 Both books were illustrated with engravings; several of those in Rumphius were based on drawings by the naturalist-illustrator Maria Sybilla Merian (b1647-d.1717), who had herself travelled to Dutch Suriname to study tropical insects.14
Promiscuous exchange among map-makers and engravers, publishers in various lands, experts and popularisers was common. This was evident in the Netherlands, an established printing centre.15 Images and descriptions became fundamental to debates about the nature of strange peoples, shaping ideas of man and nature.16 Interest in the world and its wonders created a growing market. Pieter van der Aa (b.1659-d. 1733), official publisher for the town and university of Leiden, was a particularly successful and prolific printer, including maps, atlases and travel compilations. His books, illustrated with copper engravings, covered Europe, India, Africa, Japan, China and the Americas as well as the Indies, often pirating illustrations or texts from other works.17 Atlas nouveau et curieux des plus celebres itineraires (Leiden,1714) was a typical van der Aa title. Click here for an image from Les Forces de l'Europe, Asie, Afrique et Amerique ... Comme aussi les Cartes des Côtes de France et d'Espagne, from 1726.18
François Valentijn (b.1666-d.1727) was one of the most influential writers. His five volume magnum opus, Oud en Nieuw Oost-Indiën (1724) contained over a thousand illustrations and maps from copper plate engravings. These were – and are - widely reproduced. His text incorporated hearsay and unacknowledged borrowings as well as first-hand observations. Valentijn had served as a clergyman in the Indies twice. In 1714 he finally retired to the Netherlands, where his privileged access to VOC maps and documents was essential for his work.19
The Polish-born VOC soldier, draughtsman and engraver Johann Wolfgang Heydt published his Allerneuester Geographische- und Topographischer Schau-platz, von Africa und Ost-Indien in 1744.20 See here his View of the Castle and Town of Makassar, located on the Island of Celebes.21
One of the most engaging VOC amateur artists was Jan Brandes (b.1743-d.1808), a Lutheran clergyman who arrived in Batavia in 1779. His views of life in the Indies (and Sri Lanka and South Africa) are direct and lively. The Rijksmuseum in Amsterdam holds his sketchbooks.22 His interest in daily life resulted in striking and natural images, like the Chinese Day of Sacrifice in Batavia, 1779-1785, or The Perahu of the Posthouder (local Dutch representative) at Anjer, West Java, 1779.
The naval officer C.W.M. van de Velde (b.1818-d.1898) was an accomplished draughtsman, stone engraver and printer. His Gezigten uit Neêrlands Indië (1846) included a series of lithographs of Lombok, Timor, Maluku and Sulawesi as well as Java. Given his naval background it is not surprising that seaviews predominate. Van de Velde met members of Dumont d'Urville's expedition (see below) in Ambon in February 1839, not long after his arrival in the Indies; he recorded his admiration of their diligence in the preface to his Gezigten. He later became known for his travels in Syria and Palestine.23
Enlightened Expeditions
George Anson's voyage around the world (1740-1744) had typically mercantilist motives (the interests of the South Sea Company). In 1748 his (ghost-written) account became another best seller, its appeal enhanced by 41 copper plates. The high point of Anson's adventures was the capturing of the Manila galleon on the 20th of June 1743; the fearsome losses suffered by his men– only 188 of the original 1,854 survived – added to the drama.24
In contrast, the great sea voyages of the 18th and early 19th centuries were driven more by the enlightenment spirit of enquiry, and government's desire to improve navigation and scientific knowledge.25 In the resulting publications engravings of interest to the natural sciences were prioritised, but images of peoples and places were usually included alongside meticulous reproductions of flora and fauna.
Louis-Antoine de Bougainville (b.1729-d.1811), James Cook (1728-d. Hawai'I 1779) and their successors sailed in search of knowledge. De Bougainville circumnavigated the world between 1766 and 1769, visiting the Dutch possessions of Buru and Batavia in 1768.26
Captain Cook was accompanied by the botanist and naturalist Joseph Banks, whose drawings introduced botanical and zoological discoveries. In 1771 Banks arranged the costly engraving of 738 copper plates relating to the voyage; these remained unpublished until the twentieth century.27
In 1769 and 1772 Pierre Sonnerat took advantage of his position as secretary to his uncle, a French colonial administrator in the Mascarenes, to sail to the Philippines, Moluccas and New Guinea. India and China followed in 1774 and 1785. The frontispiece of his account of his New Guinea visit, which included the material on the Philippines, is his own depiction of himself drawing a bird; this was engraved by Marie Therese Martinet (b.1731-d.1776).28
Sonnerat's interests were typically ornithological and botanical, but he included occasional drawing of more general interest. These can be found in the online edition of his book.
In 1793 the French government allocated funding for a public museum, the Muséum National d'Histoire Naturelle in Paris, and for a series of scientific naval expeditions. Between 1800 and 1840 ten were despatched to the Pacific, including Australia and some of the Indies islands, accumulating a corpus of knowledge and experiences. Scholars and engravers based in the museum prepared not only histories of the voyages but also beautifully illustrated atlases (collections of images, maps etc.) illustrating their findings. The voyage by Nicolas Baudin (b.1754–d.1803) was sponsored by Napoleon. One of the scientists on board was François Péron; after Baudin's death he was responsible for writing the history of the voyage and the publishing the scientific results. After he himself died in 1810 Louis de Freycinet (b.1779–d.1842), the cartographer who had accompanied Baudin, managed the final phase of the resulting publications (1807-1816): three volume of text and two atlas volumes. The latter consisted of engraved charts and plates by Charles-Alexandre Lesueur and Nicholas-Martin Petit. The volumes are a major resource for early Australian history, particularly that of indigenous society. The Atlas also included two Timor images, the second is reproduced in the main database. These expeditions transformed the study of astronomy, hydrography, botany, zoology, and, less directly, ethnology.29 Petit also made personal sketches which were not included in the official account of the voyage.
In the late eighteenth century two innovations transformed print making. The first was a renewal in the use of wood-blocks. In 1790 Thomas Bewick's The General History of Quadrupeds was published, illustrated with boxwood block prints, introducing "the single most significant piece of illustration technology, which dominated early Victorian book illustration". It allowed images and texts to be printed on the same page.30 Then, in 1796, the Czech-born actor and playwright Alois Senefelder (b.1771-d.1834) invented lithography in 1796; he had been looking for a way to reproduce scripts and music scores. Lithography used stone, oil and water, rather than metal, wax and acid; it was simpler and cheaper than engraving. Mapmakers, musicians, artists and the press embraced the new technology. Publications of some importance would often combine images reproduced by different techniques; this became much more common in the later nineteenth century.31
De Freycinet's own expedition and circumnavigation from 1817 to 1820 was funded by Louis XVII; the results of the voyage were issued in ten textual volumes and four folio atlases.32 The plates of social interest were published (1825) in the Atlas Historique; most were by Jacques E.V. Arago (b.1790-d.1855)33 and Alphonse Pellion (b.1796-d.1868), a naval topographical draughtsman. Jacques Arago's drawings were typically published as lithographs, although there were some steel engravings. Apart from Timor, Alor, Gebe and the Raja Ampat islands de Freycinet's artists also recorded their impressions of Rio de Janiero, Mauritius, Australia, Guam and the Marianas, New Zealand and Montevideo. De Freycinet smuggled his wife Rose aboard, initially dressed as a man; her journal was later published.34
Arago published his own informal account of the voyage, based on letters to a friend. This included twenty six engravings. and was published in London in 1823.35 The summary of the official report with which he prefaced his own letters referred to the "unwearied zeal and remarkable intelligence of M. Arago, the draftsman of the expedition". De Freycinet's second lieutenant (Louis Isidore Duperrey, b.1786-d.1865) completed his second circumnavigation commanding his own ship (1822–1825). He concentrated on the Pacific, visiting Australia twice, but not Southeast Asia. His expedition generated multiple volumes and parts issued after 1826, as well as four atlases. The Histoire de Voyage included 60 engraved plates, 59 hand coloured.36
An even greater contribution was made by Duperrey's second in command, Jules Sébastien César Dumont d'Urville (b.1790-d.1842), who sailed three times to the South Seas.37 After his first trip as part of Duperrey's voyage, Dumont d'Urville returned as commander of the Astrolabe (same ship, new name) in 1826-1829. On this voyage the official navy artist was Louis Auguste de Sainson (b.1800-d.1874), known for his work in New Zealand. The third expedition, Dumont D'Urville's second as commander, included two corvettes, the Astrolabe and the Zélée; this lasted from 1837 to 1840 and included a path-breaking investigation of Antarctica.
The purposes of these state-sponsored initiatives were primarily scientific, as is clear from the results of Dumont D'Urville's expeditions. The Biodiversity Library, for example, provides 29 publications from his first command of the Astrolabe (1826-29)38; these are grouped into divisions or series. The account of the journey is in five volumes, some in two parts, including c. 100 wood-cuts. The two-volume Atlas Historique contained more than 240 lithographs (1833) plus a volume on meteorology. Series two consisted of a single volume on botany, with an atlas of 80, mainly coloured plates. Zoology, division three, consisted of five volumes, plus an atlas of more than 200 plates, printed in colour. The last two divisions were more modest: entomology, with one volume including 12 plates and finally hydrography, with an atlas of 53 plans or maps. The results of Dumont D'Urville's second voyage as commander, with the Astrolabe and La Zélée (1837-40)39 were a ten-volume history of the voyage, plus the two volume Atlas Pittoresque (1846).
This contained 2 frontispieces, 198 plates and 9 double page maps. Then there were five other atlases: zoology (with 140 plates), botany (66 coloured plates), anthropology (fifty plates and four double page coloured maps) and geology (9 plates), and finally hydrography (57 maps, most on two pages). It requires some navigational skill to locate specific images; unfortunately, many such books have been cannibalised for sellable plates.
Dumont d'Urville had been inspired by James Cook, whose travels he eventually surpassed. The engraved and lithographic plates illustrating these voyages, notably from volume two of the Atlas Pittoresque, have been regularly reproduced; some were later hand coloured. Dumont d'Urville and his two ships visited Makassar, and his officers have left several accounts of the town.
Among the illustrations from Voyage au Pôle Sud is Views of a Perahu from Dorey, New Guinea, 1830-1835, E. Paris40 and Ambon, Interior and Façade of a Mosque in the Malay Quarter, 1839-1835, by Louis de Sainson.41
Less well known voyages also produced images, such as the view of Melaka, below. This was published in Captain C.P.T. Laplace's account of his circumnavigation (1830-32). This included two atlases, one on history and one on hydrography. The main focus of his voyage was the later Indo-China.42
Sponsored Science in the Dutch East Indies
The Dutch provinces had produced pioneering scientific work in the seventeenth century; in 1778 the Enlightenment was institutionally embodied in Batavia, when intellectually inclined VOC officials supported the creation of the Batavian Society for Arts and Sciences (Bataviaasch Genootschap voor Kunsten en Wetenschappen43.
But during the turbulent decades of the later 1700s and early 1800s research had low priority, lagging behind European trends. In the earlier 19th century some ships were sent to the tropics to show the flag, but with political and administrative rather than research purposes.44 Paris had been home to a geographic society since 1821, followed by Berlin (1828) and London (1830), but the Koninklijk Nederlands Aardrijkskundig Genootschap (KNAG, Royal Dutch Academy for Geography) was only founded in 1873.
Willem I, who ruled the Netherlands after the end of the Napoleonic wars (r.1815-1840), was a friend of the Prussian polymath Alexander von Humbold (b.1769-d.1859), and the king was well aware of his country's backwardness in studying its overseas possessions.45 When Willem was exiled in England (1795-1813) he appointed the economic specialist Johannes Goldberg as head of the Council for Commerce and Colonies (1814). Together they decided that the man to invigorate colonial science was the scholarly German professor of natural history at the Amsterdam Athenaeum, Caspar G.C. Reinwardt (b.1773-d.1854). He was appointed to the royal colonial commission, dedicated to "the search for and precise observation of the curious aspects [of our Oriental territories]". As these had been "neglected for almost half a century" it was necessary to "make up for lost time".46 The Commission arrived in Batavia in April 1816; a year later the Buitenzorg (Bogor) botanical gardens were founded; these became a resource of world-wide significance in applied science, paralleling the more traditional studies of the Batavian Society.47
The creation of a lasting record was an important aspect of the Reinwardt Commission's work, so eighteen artists and taxidermists were employed. The brothers Bik were probably the best known. Adrianus Johannes Bik (b.1790-d.1872) was sent out as draughtsman. In Java he was able to arrange the appointment of his younger brother, Jannus Theodorus Bik (b.1796-d.1875) to a similar post. 48
Publication of Reinward's material was delayed.49 The most fundamental early 19th C contributions to knowledge of the Indies came from scholarly British officials, notably William Marsden (b.1754-d.1836), Thomas Stamford Raffles (b.1781-d.1826) and John Crawfurd (b.1783-d.1868). Raffles and Crawfurd benefited not only from their service in the British-occupied Indies in 1811-1816, but also from collaboration with Dutch colleagues.50
However, Reinward's pioneering work was later continued by another, more extensive commission. Coenraad Jacob Temminck (b.1778-d.1858), son of a high VOC official, took the initiative. In 1815 he had become acting head of Leiden's Kabinet van Natuurlijke Historie (Natural History Collection); five years later he moved to the new Rijksmuseum van Natuurlijke Historie (National Museum of Natural History) another project of Willem I.51 The Natuurkundige Commissie voor Nederlandsch-Indië was established in 1820.52 Over a period of thirty years eighteen scientists travelled to the Indies; more than half died there.
The Heidelberg-born Salomon Müller (b.1804-d.1864) joined the Commission as a taxidermist in 1826. He was responsible for the richly illustrated ethnographic material that became the basis for a number of publications.53 In 1828-1829 Müller sailed to New Guinea and Timor aboard the corvette Triton, the artist Pieter van Oort (b.1804-d.1842) (see below) was also a passenger and drew a view of life on deck. The voyage resulted in several publications54, as well as the foundation of the ill-fated Fort du Bus on the south coast of Papua. The small settlement on Triton Bay struggled to survive illness and attacks by angry raiders from Seram and Gorom, who traditionally controlled trade in the area. Those remaining settlers were taken off from New Guinea in 1836.55
The Commission's Transactions or Verhandelingen were edited by Temminck and published in 29 parts between 1839 and 1847, with a print run of 25056; the 17,000 pages of information have been digitalised.57 The work done by the two Commissions, that led by Reinwardt and that edited by Temminck, provide some of the earliest and most informative images of the eastern archipelago. One of the best draughtsmen was Pieter van Oort (b.1804-d.1832). He was appointed as artist to the Natural History Commission in 1825 and was well known for his meticulous bird paintings, but also drew people and scenes. He died in Padang, West Sumatra, aged 29. 58
The ethnographic illustrations in Müller's Land-en Volkenkunde depicted peoples60 as well as artifacts61. Van Oorst and Müller were also colleagues in their work in Java (1831-1833) and West Sumatra (1833-1835), where van Oort died. Müller returned to Europe in 1837, where he wrote up the results of his work, which were published in parts between 1839 and 1842.62
When no drawings were available from their own employees, as was the case in South Sulawesi, publications of both Commissions included engravings based on pre-existing paintings, in this case those created by Maurits Ver Huell during his visit in 1816. In Temminck's Verhandelingen volume by Müller plates 15, 16, and 17 were W. van Groenewoud's lithographs after Ver Huell.63 Unfortunately, almost all Ver Huell's on-site paintings and drawing were lost in a shipwreck on his way home, so most of those that are now available were reconstructions from memory, only a few being based on surviving sketches. This is a particular loss in considering his depiction of archaeological sites, such the royal graveyard at Bontoala, Makassar.64 The Müller volume's engraving was faithful to the central elements of Ver Huell's picture, but readjusted the landscape and figures, and is clearer in detail.
The first modern map showing the topography and the changing administrative divisions of all the Indies was made by Baron Gijsbert Franco von Derfelden van Hindersteine and published between 1839 and 1855. The baron was a friend of the equally aristocratic former Governor General Baron G. van der Capellen;65 this helped him obtain royal patronage for his twenty year project. The detailed map, on copper plates, was accompanied by extensive documentation.66 No doubt members of the nobility had easier access to the funds and permissions required for such ambitious projects.67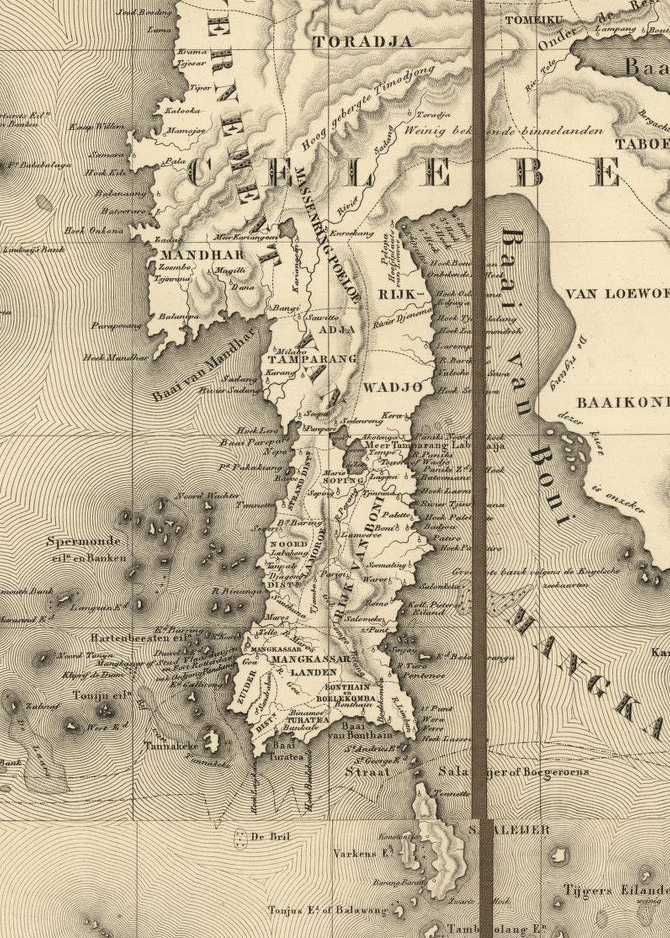 The Atlas der Nederlandse Overzeesche Bezittingen was created by Vandeferlden and the prolific and well-born naval officer and hydrographer P. Baron Melvill van Carnbée (b.1816-d.1856). Melvill van Carnbée had published a map of the Celebes in French in 1848, the same year in which he had applied unsuccessfully for the right to exploit gold mines over an area of 11,000 square miles in North Sulawesi.68 His map of the Minahasa was issued in 1853.69 The Atlas was initially a series of individual maps published in Batavia between 1853 and 1862, including one of South Sulawesi in 1860.
In the Netherlands the loose maps were combined into the Algemeene atlas van Nederlandsch Indië: uit officieele bronnen en met goedkeuring van het gouvernement samengesteld; 11 editions were published between 1870 and 1872. In 1864 the mapping of the Indies had been given a new foundation with the establishment of the Topographic Survey office. Increased security in the outer islands enabled the surveyors to travel there in the 1880s, once the main work on Java was completed. From 1905 a Central Mapping committee focussed on creating specialised maps for practical purposes, including those needed by the growing number of technical administrative service such as forestry, mining, agriculture, railways, and the cadastre.70
Two German (ex)soldiers were pioneers of exploration: F.W. Junghuhn, a military doctor, travelled extensively in Java between 1835 and 1848, as well as in Sumatra. In 1856 he published his Java-Album of coloured lithographs based on his own drawings.71 The colonial government assigned a veteran of the Sumatra journey, C.B.H. von Rosenberg72, to lead various expeditions, exploring (i.a.) North Sulawesi's Gorontalo, the Southwestern Islands and New Guinea.73 He included images and maps in his books; his account of Gorontalo, for example, was illustrated with hand-tinted lithographs, showing views and costumes74, as well as hand-coloured maps.
The Dutch colonial government later agreed to a privately funded expedition to East Borneo by the Norwegian, Carl Bock (b.1849-d.1932); his report was published in 1881. An English version, with material on Sumatra, was also published, with the market-oriented title of The Headhunters of Borneo75 The supplementary Atlas included 30 coloured ethnographic plates and a sketch map. In his review Alfred Russel Wallace commented, of a portrait, that it was "as perfect and as characteristic as a good photograph". 76
After 1838 academic periodicals issued in the Indies provided an important platform for the dissemination of scientific and practical information about the colonies.77 Those issued by Dutch learned societies were also important outlets.78 During the second half of the 19th century more books about the East Indies were produced, including school textbooks,79 while the_colonial bureaucracy began to systematically document local issues using statistics.80
Photography
The invention of the daguerreotype in 1839 had immediately been hailed in the Netherlands as a boon to science.81 The following year the Ministry of Colonies in The Hague commissioned a military doctor, Jurriaan Münnich, to go to Java "to test and employ photography in our tropical regions" and to depict the "principal views, etc also of plants and other natural objects". Visiting photographers were also employed. Adolph Schaefer (d.1857) established the first commercial studio in Batavia in 1844. The following year he was hired by the Bataviaasch Genootschap to make daguerreotypes of the large and neglected Borobudur temple in central Java.82 In 1862 the same commission was given to the Belgian-born Isidore van Kinsbergen (b.1821-d.1905), who had come to Batavia in 1851 as an actor and scene painter; he took over a year to photograph Borobudur.83 In 1863 van Kinsbergen travelled with the Governor General through Java and Bali, making a second similar journey in 1865. His portraits were much in demand among the nobility of both islands; he also took some notable photographs of prominent colonial figures. 84
Private enterprise played a central role in early Indies photography. Practitioners earned their living primarily through studio portraiture and, to a lesser extent, by making images for sale; the more successful were thriving businesses. In May 1857 two British photographers, Walter Bentley Woodbury (b.1834-d.1885) and James Page (b.1833-d.1865), arrived in Batavia. They stayed longer than they had expected and travelled through the Indies, including Sulawesi and Maluku. In 1862 Page worked in Makassar for a while, where he married "a beautiful Malay woman", while in 1867 Woodbury opened a temporary studio on Makassar's Prinshendrikplein, opposite the Dutch social club De Harmonie. The firm's travelling photographer, W. Schmedes, returned to Sulawesi in 1882. 85
One of the most enterprising photographers, both archaeological and commercial, was the Armenian Onnes Kurkdjian (b.1851 in Kyurin or Gürun, in the Ottoman Empire – d.1903 in Surabaya). He worked in Yerevan, Tiflis, Singapore and, from 1884, in Surabaya; the business lasted until 1936.86
Another enterprising photographer, the German, G.R. Lambert (b.1846-d.1907), established a studio in Singapore in 1867; this eventually had branches in Medan, Kuala Lumpur and even, for a month, in Bangkok, where he was court photographer in 1880. He employed many assistants, and also bought from travelling photographers.87
Later successful Indies studios were those opened by Carl Julius Herman Salzwedel, who worked in the Indies from 1877 to 1904, becoming van Kinsbergens's partner and Charles van Es & Co (active 1884-1912). Schmedes, from Woodbury and Page, took over Salzwedel's business, and opened a Sulawesi branch in 1885, which was led by E. Schluter, and one in Makassar two years later, under Adolph Helm. 88 Non-European photographers entered the field in the late 19th century, most were Chinese, often Cantonese from Singapore and Hong Kong. Most such businesses were family firms. 89 Wah Seng was well established in early twentieth century Manado and Makassar.90
There was a continuum of popular image-making between black and white photographs, those that had been hand-coloured, and coloured drawings based on photographs sold as lithographs. From 1875 offset printing incorporated an intermediate surface (carboard or rubber) to transfer images from the stone or metal to the press. This remained the dominant printing method until the arrival of the first digital presses eliminated the need for these mechanical means by reducing images to pixels. 91 Advances in photography expanded the range of images available.
The development of gelatin backed film in the 1870s made the actual taking of photographs much faster; a tripod was no longer indispensable. New, and more portable, cameras became available. 92 By the late nineteenth century exploratory expeditions were increasingly accompanied by photographers. The first chairman of the KNAG was P.J. Veth (b.1814-d.1895), a respected and prolific academic, writer and lobbyist who never went to the Indies. 93 However, his son, D.D. Veth (b.1850–d.1895) was a traveller in his own right and also took the photographs during the first private scientific exploration of central Sumatra, organised by his father. Some of his work was reproduced as photographs, others adapted into wood-block prints. 94 The Amsterdam-based Maatschappij ter Bevordering van het Natuurkundig Onderzoek der Nederlandsche Koloniën (est. 1890) was joined by Batavia's Indisch Comité voor Wetenschappelijke Onderzoekingen (1897) in sponsoring a series of expeditions: A.W. Nieuwenhuis to Borneo (1894, 1896-97,1898-1900), 95 the Siboga voyage led by Max Weber (1899-1900, see below), and three joint civilian-military journeys to New Guinea (1907, 1909-1910, 1912-1913). 96
Photography was an integral part of these missions. Jean Demmeni (b.1866-d.1939) was known for his work in West Sumatra, and particularly for his images from Nieuwenhuis's West Borneo expeditions. Demmeni, a man of French and Indo-European parentage, also took many photographs elsewhere in the Indies, including Central Java.
Demmeni's images, and those of colleagues such as the military officer Theodoor van Ardenne (b.1879-d.1954), the ethnographer Albert Grubauer (b.1869-d.1940) 97 , the officer-cartographer C.H. de Goeje (b.1879-d.1955) and the engineer J.W. Post provide unique information on peoples in the eastern Indies, who were, at that time, relatively undocumented. 98 Photographers also documented colonial wars, from Aceh to Bali. 99 Nieuwenhuis himself sketched during his expeditions, but strictly as amateur.100
Ethnography
One of the volumes published after Dumont D'Urville's second voyage was entitled Anthropologie (1854).101 This volume was published five years before the founding of the Société d'Anthropologie de Paris; the discipline developed in the late 19th and early 20th century. Pierre Marie Alexandre Dumoutier, a well-known phrenologist, was attached to Dumont's expedition, after the captain had was intrigued by this technique in the scientific study of mankind. Fifty plaster casts of living people's heads and many drawings of skulls were the result. 102 In a combination of technologies, some casts were photographed as daguerreotypes (by the Bisson brothers) and published as lithographs (by Leveillé).
In 1869 Alfred Russel Wallace published his seminal book on The Malay Archipelago. Wallace, who stands alongside Darwin in developing theories of evolution, travelled in the Indies to collect specimens for almost six years. Five of these were spent in eastern Indonesia, in a period when Dutch officials and naval officers were still exploring the region. Wallace spent months encamped in territories where there was little evidence of colonial rule: six months in Aru in 1857, four in Dore (northwest New Guinea) in 1858, two on Seram in 1859. 103 Like other naturalists, he relied on the sale of specimens to museums and collections to support his work. However, the book, illustrated with wood-cuts, was a scientific, popular and financial success. A complete overview of Wallace's work, images and maps can be found on John van Wyhe's Wallace Online website. 104 In 2013 David Quamman assessed the impact of Wallace's book: 105
Alfred Russel Wallace was arguably the greatest field biologist of the nineteenth century. He played a leading part in the founding of both evolutionary theory and biogeography… He was also, at times, a fine writer. The best of his literary side is on show in his 1869 classic, The Malay Archipelago, a wondrous book of travel and adventure that wears its deeper significance lightly… But this book is not just a subtle compilation of data and argument. It is also a joyride through one of the wildest, most exotic, most remote regions of Earth that any Victorian explorer ever visited.
It took time for ethnographers to adjust to the new possibilities offered by photography. Pioneers were uncertain how involvement would affect their credentials. Documentation of racial typologies and artifacts seemed to meet scientific criteria, but the association with racial theories and colonial objectification of subject peoples has contributed to unease among modern anthropologists. 106 Adolf Bernhard Meyer (b.1840-d.1911), became the first director of the Museum für Völkerkunde Dresden (the Dresden Anthropological and Ethnographic Museum) in 1875. He had translated Alfred Russel Wallace into German, and been inspired to travel, at his own expense, to the Netherlands Indies. From November 1870 to July 1871, he was in Makassar, and then spent nine months in north and central Sulawesi. In 1872 he went to the Philippines, but returned to Sulawesi in 1873, for some eight months, going to Gorontalo and Kema prior to his departure from Makassar in August. 107 In 1873 Meyer also stayed in New Guinea for five months research. His time in Southeast Asia led him to historicise evolutionary theory as one of random branching, rather than a linear process, which was the view favoured by the German ethnological establishment. 108 "Meyer combined", concluded Marissa Petrou, "the liberal humanitarianism of the German anthropologists with Darwin's argument for descent and evolutionary diversity. 109
Meyer was less well known than his contemporary, "the anticlerical German zoologist" Ernst Haekel (1834-1919) whose views on evolution and innovative use of illustration created great controversy. The Natürliche Schöpfungsgeschichte (Natural history of Creation) went through eleven editions between 1868 and World War I and was translated into a dozen languages. It was "perhaps the chief source of the world's knowledge of Darwinism" in the 1860s and '70s. Images from this were and are widely used in a range of arguments. 110
For non-specialists in the history of natural science the influence of such images lingers not so much as evidence in the history of Darwinism, but in the revulsion often felt against the racism attributed to descriptions and depictions of "primitive" peoples.
Meyer's travels preceded the publication of his photographic volumes, which themselves were works in progress. Those on the Philippines came fifteen year after his visit (published in 1885-1904), the Celebes in 1889 while those on Papua followed in 1894 and 1900. 112 Many of the images in his collections had been produced by others. Most of Meyer's own photographs are staged studio shots with unreliable labels. Shutter speeds were slow, and photography outside was almost impossible. These uncertainties make attribution of many early images problematic. However, Meyer was also interested in using illustration as evidence and in the training of students. For Meyer, as for Darwin, "images were instrumental to explaining evolution in a way that could not be achieved by text alone". 113 However, his graphic legacy was far from transparent, accurate or systematic. Meyer published three volumes on Filipino-Typen (1885-1904), with plates from negatives supplied by Dr. A. Schadenburg. Meyer provided references to various ethnographic publications for the contextualisation of the plates; his own text was restricted to comments on the views presented. 114
In 1889 Meyer's Album von Celébes-typen appeared, which included images from Minahasa, Gorontalo and the Tomini Gulf, as well as from Buool, Kaili, and Balanta on the east coast.115 In the introduction he explained that he had taken most (den grössten Theil) of the photographs himself, during his time in Sulawesi in 1870-1871, while acknowledging the help of various friends, including the German Consul in Makassar. His first thanks, however, went to J.G.F Riedel, son of missionary, high official in the colonial government and enthusiastic ethnographer. The two men were regular correspondents; Riedel had published his encyclopaedic volume on The Straight and Frizzy-Haired Races between Celebes and Papua in 1886. 116 Riedel commented on the first fifteen of Meyer's plates, concerning the Minahasa.
In Meyer's Celebes album there was only set of explicitly scientific ethnographic photographs, showing the front and side views typically used for anthropological classification, that now seem so stigmatising. In 1894 and 1900 the two volumes on Papua-Typen appeared, co-authored by R. Parkinson. Among these images are the front-and-side photographs 117 of the Buginese Radjab from Selayar. These photos originated in an album donated to the Dresden museum. This gift was probably made after 1870, as otherwise Meyer would presumably have taken similar front and profile images, as he did in his other albums.118
Meyer was seldom precise in his identifications. The copy of the Celebes Album once held in the library of the Royal Tropical Institute, Amsterdam, had several clarifications pencilled in, suggesting that three of four photographs in one plate were not from South Sulawesi at all. The first was from Gorontalo; the second of the two — described as "uncertain" by Meyer — was thought to be from Ternate in Maluku. 119 One outside image included in Meyer's album was of a group of Makassarese; 120 we do not know if he himself took this in 1871-1872, of whether they came available between then and 1888. Meyer described these dancers as princesses; in fact pajoge dancers were court-trained commoners who performed at royal weddings. Another form of pajoge is performed by transgender women.
In his studio Meyer photographed the same people in different dress. The uncertainties of identification are evident in four differently labelled versions of the same image. One of Meyer's Makassarese "princesses"121 (who appears twice in different clothing) is identified as a slave in a copy of the same photograph held in the Smithsonian collection.122 An image of the same woman, in different clothes and pose, is held by the KITLV, where it is dated 1862.123
The same girl appears again in another picture, probably taken during the same session (compare the cloths), in the Rijksmuseum photographic collection where, despite the Makassarese dress, she is identified as one of Two Javanese Girls, by Woodbury and Page, from the period 1860-1890. This could be because it was included in an album entitled Views of Java. It seems probable that this is a studio portrait made by Woodbury and Page in Makassar in the 1860s and then recycled a number of times without attribution, hence the varying labels.124 Although slavery was abolished in Sulawesi in from the beginning of 1860, it would certainly be possible for one of Meyer's friends to have lent him a slave. But we do not know this woman's identity.
In 1894 and 1900 the two volumes on Papua-Typen appeared, co-authored by R. Parkinson. The photographs in the Papua volumes are more diverse, reflecting the increasing ease of photography. In addition to static ethnographic images there are plates depicting daily life, mainly around Papua New Guinea and the Bismarck Archipelago.
In the 1880s many publishers still preferred to use engravings based on photographs to printing the originals. This was the case with two books published in 1886, for example. J.G.F. Riedel, Meyer's colleague and a high Dutch official, used engravings of photographs in his work 126
The geographer Francis Henry Hill Guillemard (b.1852-d.1933), who published a two volume account of a voyage through the eastern islands in 1886, explained in the preface: 127
The very large number of photographic negatives we brought back rendered the choice of subjects for engraving a matter of some difficulty. Very great care has been bestowed upon the illustrations, and I can fearlessly claim for them that - at least in point of accuracy – they can hardly be improved, for with a few exceptions they are reproductions of our photographs.
The most important government sponsored scientific expedition of the late nineteenth and early twentieth centuries was named after the ship SS Siboga. The voyage, from March 1899 to February 1900, was led by Max Weber, and produced a considerable amount of material on zoological, botanic, geological and hydrographic matters.128 His wife, Anna Weber-Bosse (b.1852-d.1942) was also on the expedition; she was a well-respected botanist and a pioneer in the struggle for the education and recognition of women scientists. 129
Even serious scientists wanted photos for themselves. Anna Weber-Bosse accompanied the Governor of the Celebes on an official visit to the court of Gowa. She described how they were received by "the king and his brothers, all richly clad in sarong and jackets embroidered with gold thread….Versluys was going to take some discreet 'snaps', and had the small camera with him, but the light in the room was so bad that nothing worked". 131
Three early twentieth century individual photographers illustrate the increasingly effective use of the medium to document eastern Indonesia societies. Gerrit Pieter Rouffaer(b.1860-d.1928) had dropped out of his training as a mining engineer to spend six year travelling through Europe pursuing his interest in art. When his sister died, with whom he lived, he decided to go the Indies, arriving in 1885.
Rouffaer became disillusioned with gossip-ridden colonial society, and developed an informed appreciation of Java's monuments, culture and the local peasant economy. Malaria forced him back to the Netherlands, where his academic ties and enthusiasm led him to reorganise the chaotic libraries of the KITLV and the Indisch Genootschap, a society of learned orientalists. He also published extensively, and the quality of his work was recognised. A return journey to the Indies was subsidised in 1909. He spent most of 1910 travelling through the islands east of Bali. His health failed, and he went back to the Netherlands where he published and edited work on the Indies. He had no formal qualification, but his commitment and genuine interest in Indonesian societies were impressive. 132 In 1937 the KITLV published a selection of his photographs as The Ethnography of the Lesser Sunda Islands in Images. 133
The photographs Rouffaer took in eastern Nusa Tenggara in 1910, with their annotations, show his knowledge and curiosity to advantage. It is typical that, unlike most colonial photographers, Rouffaer sometimes identified his subjects by name.
A later professional ethnographer shared Rouffaer's enthusiasm, but not his meticulous attention to detail. The Swedish ethnographer Walter Kaudern (b.1881-d.1942) was a man of many interests, publishing on zoology, geology, botany and geography as well as ethnology. 134 His Ph.D. thesis was a "zoological anatomical-genital investigation of insectivores and groups of Lemuridae". He and his family travelled to Sulawesi at the end of 1916. This trip, like his earlier expeditions to Madagascar, was financed by the Swedish royal family. Their stay in Sulawesi was initially intended to focus on collecting zoological specimens, but he and his wife decided that local societies would be a more rewarding subject; they ended up staying almost four years. Their extensive collection of photographs was donated to the Stockholm ethnographic museum; unfortunately the labelling is erratic. 135 Kaudern published two volumes on Sulawesi in 1921. 136
Some missionaries, who spent long periods living in close contact with local societies, were also scholars. Father Petrus Drabbe, (b.1887-d.1970), of the Missionaries of the Sacred Heart, was posted in the Philippines, Tanimbar in eastern Indonesia, and the south coast of Dutch Papua. Like other priests of the order, Drabbe carried out linguistic and ethnographic research, publishing ten monographs. 138 He was also an accomplished photographer, leaving an impressive collection of Tanimbar images. 139
For the General Reader
Engraving on metal was too expensive to be commercially rewarding, but lithographs and woodblocks carved in relief (which could be used in a letterpress) allowed for mass production. Widespread application only began after the Napoleonic wars. In the 1840s new technologies were applied to different phases of the printing process. Electrotyping (the Voltaic Process) was combined with, for example, woodblock printing, while photogravure had largely replaced lithography at the end of the 1800s. In the first technique electricity was used to deposit a metal film (usually copper) on a surface, to produce a printing plate. In photogravure printing a photographic negative was transferred to a metal plate, which was then etched. 140 In 1843 the rotary (as opposed to the flat bed) press was invented, using a cylinder.
Patronage helped publishers, but it remained a business, expanding dramatically in the mid-nineteenth century. 141 If promotion, output and sales are the test, the reproductive print went from strength to strength during the 1840s and 1850s. In London and Paris printseller-publishers abounded, supplying a network of agents at home and abroad. In booming trade conditions the Printsellers' Association was founded in 1847 to regulate the complicated pricing structure of proof and lesser impressions and to authenticate genuine prints by stamping.
A lucrative market for illustrated periodicals developed; picture-enhanced accounts of exotic lands and peoples were extremely popular. 142 The Nederlandsch Magazijn (1834-1885), which focussed on such tales was particularly successful. The Dutch Eigen Haard ("Our Hearth", 1875-1941) published regular pieces on the colonies. 143 In Germany the "family paper" Die Gartenlaube (The Garden Arbour; 1853-1900) was a major influence on social attitudes. 144
Prints of the Indies were very popular; two of the most prolific artists were Auguste van Pers (b.1815-d. 1871) and Josias Cornelis Rappard (b.1824-d.1898), whose coloured lithographs shaped perceptions of colonial Indonesia. Van Pers' vivid images of daily life were particularly popular.145 Van Pers also produced less commercial drawings.
Rappard painted in watercolours, which were reproduced as lithographs.
Although the use of wood-block vignettes was not unusual in early nineteenth century books, the inclusion of plates was less common. Ver Huell's memories of his East Indian travels (1815-1819) was one notable exception; he was a recognised artist.
During the 1840s and 1850s such books became more common, including some for children.146 Between 1881 and 1883 two former military officers, who had each written a definitive account of a major mid-nineteenth century colonial war, 147 published the very popular, four volume Nederlandsch Indie. 148 Both M. T. H. Perelaer and W.A. van Rees were interested in popularising knowledge of the Indies. Perelaer wrote, among other books, an "ethnographic novel", Borneo Van Zuid Naar Noord (1881) and an "opium novel" entitled Baboe Dalima (1886); two years later this was translated and published in London with the subtitle The Opium Fiend. 149
Rappard, an infantry colonel in the colonial army (KNIL) was an aristocratic fellow officer of Perelaer and van Rees, and spent thirty years in the Indies, from 1842. He prepared the chromolithographic plates of views150 and European social life for their books. He was both prolific and popular. 151 The images from Nederlandsch Indie and three others, a total of 104 in all, were reprinted in another book by Perelaer in 1888. 152 The Colonial Exhibition held in Amsterdam in 1883 presented coloured lithographs by various artists, including Rappard. 153 Two of Rappard's most widely reproduced images of Makassar, of the harbour and fort, were based on photographs by Woodbury and Page.
As the Box Brownie spread from the early 20th C photography became a hobby. Government officials, army officers, members of Indies households, proud fathers and tourists were all anxious to show family and friends how they lived or where they had been. Photo albums became part of family life, a favourite means of commemoration, and an ideal presentation gift for visiting dignitaries and departing colleagues.155 To mention just a few examples from Makassar, the photographic collection of the former KIT held albums compiled in Makassar for family collections, presentation volumes for retiring police officers, gifts for Governors General (including one from the 1924 Municipal Council), business reports of inspection tours, and a farewell present for the Bicker Caarten family members who left in the difficult year 1956.156
The long tradition of public interest in foreign lands continued through the twentieth century. In 1888 the American National Geographic Society was founded in Washington, DC, a typical club of academics, nature lovers and explorers. Its magazine, begun the following year, was to become an international business, famous for its use of photographs in the early twentieth century.157 No similar publications have been so commercially successful.
In England the duo of John Alexander Hammerton (1871-1949) and Arthur Mee (1875- 1943) were a publishing phenomenon, working with the late Lord Northcliffe's Harmsworth Amalgamated Press. They began with the Harmsworth Self Educator partwork, issued between 1905 and 1907. 158 Their People of All Nations series was begun in 1922 and adapted, re-issued, expanded and given new subtitles over subsequent decades. The final "two handsome volumes" were advertised as including 3.500 photographs, 124 colour plates, and many maps. In 1934 part 42 of the series, then subtitled A colourful Pageant of All Mankind in the World of Today focussed on the Dutch East Indies and their colonies.159 Alongside the two colour plates of Javanese ("the finest flowers of the Malay race") there were many black and white photographs including two of Buginese ("strong, active, haughty and clean"). 160
Photographs became a mainstay of the popular weekly magazines that proliferated in both the Netherlands and the Indies in the first decade of the 20th C. The initial number of the Weekblad voor Indië was issued by the editor and printers of the Surabaya Handelsblad in 1904 (ended 1920). 161 Het Indisch Leven (Batavia, 1919-1921) and the more serious Het Nederlandsch-Indische Huis Oud en Nieuw (Batavia 1913) evolved into a monthly (1916) and then annual (Amsterdam, 1935-1937) versions as Nederlandsch Indie Oud en Nieuw. Similar ventures in the Netherlands were Indië, geïllustreerd weekblad voor Nederland en koloniën (Haarlem, 1917-1925) and Tropisch Nederland: Tijdschrift ter verbreiding van kennis omtrent Oost- en West-Indie (fortnightly; Amsterdam, 1928-1940). 162 These publications were regarded as suitable for family reading and the improvement of public knowledge.
From the sixteenth to the twentieth century, images of foreign countries and unfamiliar societies have fascinated readers and informed scientists. Those from the past have considerable historical value, communicating both strangeness and, often, a sense of common humanity. They are, quite simply, fascinating.
Bibliography
Allingham, Philip V. "The Technologies of Nineteenth-Century Illustration: Woodblock Engraving, Steel Engraving, and Other Processes." The Victorian Web. Literature, History, & Culture on the age of Voctoria http://www.victorianweb.org/art/illustration/tech1.html (2017).
Anson, George. A Voyage Round the World in the Years Mdccxl, I, II, III, IV London: John and Paul Knapton, 1748.
Arago, Jacques. Narrative of a Voyage Round the World, in the Uranie and Physicienne ... London: Treuttel and Wurtz, 1823.
Bakels, Jet, and Nico de Jonge. Indië Ontdekt: Expedities En Onderzoek in De Oost En De West. Leiden: KITLV, 2001.
Ballard, Chris, Anton Ploeg and Steven Vink, , Royal Tropical Institute, Amsterdam, 2001. Race to the Snow: Photography and the Exploration of Dutch New Guinea. 1907-1936. Amsterdam: KIT, 2001.
Banks, Joseph., James Britten, and Daniel Charles Solander. Illustrations of the Botany of Captain Cook's Voyage Round the World in H.M.S. Endeavour in 1768-71 London: British Museum and Longmans, 1900.
Bastin, John, and Bea Brommer. Nineteenth Century Prints and Illustrated Books of Indonesia: With Particular Reference. To the Print Collection of the Tropenmuseum, Amsterdam. A Descriptive Bibliography. Utrecht: Spectrum, 1979.
Begum, Kirsten. Popularizing the Nation: Audience, Representation, and the Production of Identity in "Die Gartenlaube," 1853–1900. Lincoln: University of Nebraska Press, 1998.
Belgum, Kirsten, Vance Byrd, and John D. Benjamin, eds. Before Photography: German Visual Culture in the Nineteenth Century. Berlin: Walter de Gruyter, 2020. https://doi.org/10.1515/9783110696448
Berkel, Klaas van. "Het Late Begin Van Nederlandse Wetenschappelijke Expedities Naar Indië." Groniek 186 (2010): 35-49.
Berkvens‑Stevelinck, Christiane M.G. , Johannes A. Bots, Paul G. Hoftijzer, and Otto S Lankhorst, eds. "Le Magasin De L'univers": The Dutch Republic as the Centre of the European Book Trade. Leiden: Brill, 1992. https://doi.org/10.1163/9789004246805
Bervoets, J.A.A. Inventaris Van Het Archief Van Het Geslacht Bik En Aanverwante Geslachten, 1789-1946. Den Haag: Nationaal Archief, 1977.
Bewick, Thomas. A General History of Quadrupeds. The Figures Engraves on Wood. With a Foreword by Yann Martel. Chicago: Chicago University Press, 2009.https://doi.org/10.7208/chicago/9780226044859.001.0001
Blanchard, Emile, Pierre Marie Alexandre. Dumoutier, Jules-Sébastien-César Dumont d'Urville, and Charles Hector Jacquinot. Voyage Au Pole Sud Et Dans L'océAnie Sur Les Corvettes L'astrolabe Et La ZéLéE : ExéCuté Par Ordre Du Roi Pendant Les AnnéEs 1837-1838-1839-1840, Sous Le Commandement De M. J. Dumont-D'urville. Anthropologie. Paris: Gide et J. Baudry, 1854.
Bloembergen, Marieke. Colonial Spectacles: The Netherlands and the Dutch East Indies at the World Exhibitions, 1880-1931. Singapore: NUS Press, 2006.
Bock, Carl. The Head Hunters of Borneo: A Narrative of Travel up the Mahakkam and Down the Barito; Also, Journeyings in Sumatra.
1882, . London: S. Low, Marston, Searle, & Rivington, 1881.
__. _Reis in Oost- En Zuid-Borneo, Van Koetei Naar Banjermassin: Ondernomen Op Last Der Indische Regeering in 1879 En 1880. s' Gravenhage: Nijhoff, 1881.
Boer, Gerda Theuns-De, and Saskia Asser. Isidore Van Kinsbergen, 1821-1905: Photo Pioneer and Theatre Maker in the Dutch East Indies. Leiden: KITLV 2005.
———. Isodore Van Kinsbergen, 1821-1905: Photo Pioneer and Theatre Maker in the Dutch East Indies. Vol. Leiden & Amsterdam, Zaltbommel: Aprilis KITLV, 2005.
Boer, Gerda Theuns de. "Isidore Van Kinsbergen: Photographs of Java and Bali, 1855-1880." IIAS Newsletter 35 (2005).
Boomgaard, Peter. "Dutch Colonial Scholarship in Comparative Global Perspective, 1760–1830." In Empire and Science in the Making, edited by Peter Boomgaard, 135-164. New York: Palgrave Macmillan, 2013. https://doi.org/10.1057/9781137334022_6
Bosma, Ulbe. "Franz Junghuhn's Three-Dimensional and Transcedental Java." In The Role of Religions in the European Perception of Insular and Mainland Southeast Asia Travel Accounts of the 16th to the 21st Century, edited by Jürgen Sarnowsky and Monika Arnez. Newcastle: Cambridge Scholars Press, 2016.
Bosse, A Weber-van. Een Jaar Aan Boord H. M. Siboga. Leiden: Brill, 1904.
"Bosse, Anne Antoinette Van (1852-1942)." In Biografisch Woordenboek Van Nederland. http://resources.huygens.knaw.nl/bwn1880-2000/lemmata/bwn6/bosse, 2013.
Bougainville, Louis-Antoine de. Voyage Autour Du Monde Par La Frégate Du Roi La Boudeuse Et La Flûte L'étoile, En 1766, 1767, 1768 & 1769. Paris: Chez Saillant & Nyon, 1771. https://doi.org/10.5962/bhl.title.62716 Bound for Glory - Exquisite Books of French Pacific Voyages. Sydney: State Library of New South Wales, 2006.
Broeders, P.W.A. Gijsbert Franco Baron Von Derfelden Van Hinderstein (1783-1857); Leven En Werk Van 'Eene Ware Specialiteit' in Kaart Gebracht. Houten Hes en de Graaf, 2007.
Brown, Peter. "Jacques Arago: The Artist as Social Scientist in a World in Transition." The Great Circle 39, no. 2 (2017): 120-148.
Bruijn, Max de, and Remco Raben. The World of Jan Brandes, 1743-1808: Drawings of a Dutch Traveller in Batavia, Ceylon and Southern Africa Zwolle: Waanders, 2004.
Brunet, François. "Inventing the Literary Prehistory of Photography: From François Arago to Helmut Gernsheim." History of Photography 34, no. 4 (2010): 368-372. https://doi.org/10.1080/03087298.2010.514808
Bruyns, W.F.J. Mörzer. Met De Triton En Iris Naar Nieuw Guinea : De Reisverhalen Van Justin Modera En Arnoldus Johannes Van Delden Uit 1828 Zutphen: Walburg Press, 2018. Buur, Dorothée. _Persoonlijke Documente. Nederlands-Indië/Indonesië._Leiden: KITLV, 1973.
Center, Ansel Adams, and Jane Levy Reed. Toward Independence: A Century of Indonesia Photographed. Catalog. San Francisco: Friends of Photography Bookstore, 1992.
Coe, Brian. Cameras: From Daguerreotypes to Instant Pictures London: Marshall Cavendish, 1978. Collins, R.G.J. "Louis-Auguste De Sainson." Bulletin of New Zealand art history 18 (1997): 5-27.
d'Urville, Jules Dumont. Voyage Au Pôle Sud Et Dans L'océanie Sur Les Corvettes L'astrolabe Et La Zélée Exécuté Par Ordre Du Roi Pendant Les Années 1837–1838–1839–1840 Sous Le Commandement De M. Dumont-D'urville. Atlas Pittoresque. . Paris: Gide, 1846. ———. Voyage De La Corvette L'astrolabe Exécuté Par Ordre Du Roi Pendant Les Années 1826-1827-1828-1829 Sous Le Commandement De M. J. Dumont-D'urville 22 vols. Paris: Tastu, 1830-1835.
D.D. Veth, P.J. Veth. Aardrijkskundige Beschrijving Van Midden-Sumatra: Met Atlas. Leiden: Brill, 1882.
Davis, Natalie Zemon. Women on the Margins: Three Seventeenth-Century Lives. Cambridge Mass.: Harvard University Press, 1995. Derfelden van Hinderstein, G.F. von. Mémoire Analytique, Pour Servir D'explication À La Carte Générale Des Possessions Néerlandaises Dans Le Grand Archipel Indien Par Le Baron - : Publié Par Les Soins De G.A. Tindal. The Hague: Gebr. van Cleef, 1841. Dittmar, Jeremiah E. "Information Technology and Economic Change: The Impact of the Printing Press " The Quarterly Journal of Economics 126, no. 3 (2011): 1133-1172. https://doi.org/10.1093/qje/qjr035
Douglas, Bronwen. "'Novus Orbis Australis': Oceania in the Science of Race, 1750-1850." In Foreign Bodies: Oceania and the Science of Race 1750-1940, edited by Bronwen Douglas and Chris Ballard, 99-155. Canberra: ANU ePress, 2008.
———. Science, Voyages, and Encounters in Oceania, 1511-1850. Basingstoke: Palgrave Macmillan, 2014.
Drabbe, Petrus. Het Leven Van Den Tanémbarees; Ethnographische Studie over Het Tanémbareesche Volk. Leiden: E.J. Brill, 1940.
Dunmore, John Storms and Dreams: The Life of Louis De Bougainville. Fairbanks: University of Alaska Press, 2007.
Dunthorne, Hugh, and Michael Wintle, eds. The Historical Imagination in Nineteenth-Century Britain and the Low Countries Leiden: Brill, 2013. https://doi.org/10.1163/9789004241862
Duperrey, Louis Isidore. Voyage Autour Du Monde...Sur La Corvette...La Coquille Pendant Les Années 1822-1825. Atlas Historique. Paris Arthus Bertrand, 1826.
Edward, Duyker. Dumont D'urville. Explorer and Polymath. Honolulu: University of Hawai'i Press, 2015.
Edwards, Elizabeth. "Anthropology and Photography: A Long History of Knowledge and Affect." Photographies 8, no. 3 (2016): 235-252. https://doi.org/10.1080/17540763.2015.1103088
Effert, Rudolf A.H.D. Royal Cabinets and Auxiliary Branches: Origins of the National Museum of Ethnology, 1816-1863, Mededelingen Van Het Rijksmuseum Voor Volkenkunde No.37. Leiden: CNWS, 2008.
Encyclopaedie Van Nederlandsch-Indië. 1st ed. 4 vols. Leiden: Brill, 1899-1906.
Falconer, John. A Vision of the Past, a History of Early Photography in Singapore and Malaya. The Photographs of G.R. Lambert & Co., 1880-1910. Singapore: Times Editions, 1987.
Fasseur, Cees. "Een Koloniale Paradox: De Nederlandse Expansie in De Indonesische Archipel in Het Midden Van De 19e Eeuw (1830-1870) " In De Weg Naar Paradijs En Andere Indische Geschiedenissen, 47-73. Amsterdam: Bert Bakker, 1995.
Fawcett, Trevor. "Graphic Versus Photographic in the Nineteenth Century Reproduction." Art History 9, no. 2 (1986): 185-212. https://doi.org/10.1111/j.1467-8365.1986.tb00194.x
Fernández-Armesto, Felipe. "Maps and Exploration in the Sixteenth and Early Seventeenth Centuries." In The History of Cartography, Volume 3: Cartography in the European Renaissance,, edited by David Woodward, 738-771. Chicago: University of Chicago, 2007.
Fornasier, Jean, Lindl Lawton, and John West-Sooby, eds. (Ed.), the Art of Science: Nicolas Baudin's Voyagers 1800-1804, Wakefield Press, Australia,. Adelaide: Wakefield Press, 2016.
Freycinet, Louis-Claude Desaulces de, Ch.H. Persoon, and C.A. Agardh. Voyage Autour Du Monde ...; Exécuté Sur Les Corvettes De S.M. L'uranie Et La Physicienne ...; 1817-'20 Vol. 3. Paris1824 - 1844.
———. Voyage Autour Du Monde ...; Exécuté Sur Les Corvettes De S.M. L'uranie Et La Physicienne ...; 1817-'20. . Vol. Vol.2 Part 1 Book 3. Paris: Pillet, 1829.
———. Voyage Autour Du Monde ...; Exécuté Sur Les Corvettes De S.M. L'uranie Et La Physicienne ...; 1817-'20. Atlas Historique Par Ms, J. Arago, a Pellion Etc. Paris: Pillet, 1825.
Freycinet, Rose de Saulces de. Campagne De L'« Uranie » (1817-1820). Journal D'après Le Manuscrit Original, Accompagné De Notes Par Charles Duplomb. . Paris: Les Sociétés d'Éditions Géographiques, Maritimes et Coloniales, 1927.
Gasso, Miracle M.E. "Temminck's Order. Debates on Zoological Classification: 1800-1850." Leiden University, 2019.
Gaudio, Michael. Engraving the Savage: The New World and Techniques of Civilization. U of Minnesota Press_. Minneapolis: U of Minnesota Press, 2008.
Goffart, Walter. Historical Atlases: The First Three Hundred Years, 1570-1870. Chicago: University of Chicago, 2003. https://doi.org/10.7208/chicago/9780226300726.001.0001
Gonda, J. , and J.C. Anceaux. "Pater Petrus Drabbe M.S.C.†." BKI 126, no. 4 (1970): 459-462. https://doi.org/10.1163/22134379-90002802
Goss, Andrew. The Floracrats: State-Sponsored Science and the Failure of the Enlightenment in Indonesia. Madison: University of Wisconsin, 2011.
Graaf, H.J. de. "De Tekeningen Van De Zee-Officier Q.M.R. Ver Huell." BKI 113, no. 3 (1957): 261-273. https://doi.org/10.1163/22134379-90002287
Griffiths, Antony. Prints and Printmaking, . London: British Museum Press, 1996.
Groesen, M van. "The De Bry Collection of Voyages (1590-1634) : Editorial Strategy and the Representations of the Overseas World." University of Amsterdam, 2007.
Groot, Hans. Van Batavia Naar Weltevreden: Het Bataviaasch Genootschap Van Kunsten En Wetenschappen, 1778-1867. Leiden: KITLV, 2009. https://doi.org/10.1163/9789004253803
Grubauer, Albert. Unter Kopfjägern in Central-Celebes; Ethnologische Streifzüge in Südost- Und Central-Celebes. Leipzig: R. Voigtländers, 1913.
Guillemard, Francis H.H. The Cruise of the Marchesa to Kamchatka & New Guinea with Notices of Formosa, Liu-Kiu, and Various Islands of the Malay Archipelago. 2 vols. London: John Murray, 1886. https://doi.org/10.5962/bhl.title.23073
Guillemard, Francis Henry Hill. Stanford's Compendium of Geography and Travel. Australasia: Malaysia and the Pacific Archipelago, Edited and Extended by A. R. Wallace. Volume 2. London: E. Stanford, 1908.
Habiboe, R.R.F. Tot Verheffing Van Mijne Natie : Het Leven Van François Valentijn (1666-1727). Franeker: Van Wijnen, 2004.
Hadaway, Bridget. "Hammerton, Sir John Alexander." In Oxford Dictionary of National Biography.
Haeckel, Ernst. Natürliche Schöpfungsgeschichte, Ed. (1873), By . 4th ed. Berlin: Georg Reimer, 1868.
Hammerton, J.A. People of All Nations. A Colourful Pageant of All Mankind in the World of Today, Part 42. London: The Amalgamated Press, 1934.
Harold John Cook, Sven Dupré, ed. Translating Knowledge in the Early Modern Low Countries. Vienna: LIT verlag, 2012.
Hart, C. van der. Reize Rondom Het Eiland Celebes En Naar Eenige Der Moluksche Eilanden, Gedaan in Den Jare 1850, Door Z.M. Schepen Van Oorlog Argo En Bromo, Onder Bevel Van C. Van Der Hart vols. s'Gravenhage: K. Fuhri, 1853.
Heydt, Johann Wolfgang. Allerneuester Geographische- Und Topographischer Schau-Platz, Von Africa Und Ost-Indien. Willhermsdorff: J.C. Tetschner 1744.
Hinzler, Hedi. "Onnes Kurkdjian. Viewmaker and Entrepeneur." https://bouillabaiseworkinprogress.blogspot.com/2015/02/nv-fotografisch-atelier-kurkdjian.html.
Hoffman, Thom. Een Verborgen Geschiedenis. Anders Kijken Naar Nederlands-Indië. WBooks: Zwolle, 2019.
Hoftijzer, P.C. Pieter Van Der Aa (1659-1733), Leids Uitgever En Boekverkoper. Hilversum: Verloren, 1999.
Hopwood, Nick. "Copying Pictures, Evidencing Evolution." Public Domain Review, no. 18 May (2016).
———. Haeckel's Embryos: Images, Evolution, and Fraud. Chicago: University of Chicago Press, 2015.
Howes, Hilary Susan. The Race Question in Oceania : A. B. Meyer and Otto Finsch between Metropolitan Theory and Field Experience, 1865 - 1914. Frankfurt: Lang-Ed, 2013.
Jonge, Nico de, and Toos van Dijk. Tanimbar; De Unieke Molukken-Foto's Van Petrus Drabbe. Leiden: Periplus, 1995.
Jordaan, Roy. "Nicolaus Engelhard and Thomas Stamford Raffles: Brethren in Javanese Antiquities." Indonesia 101 (2016): 39-66. https://doi.org/10.1353/ind.2016.0010
Junghuhn, Friedrich Franz Wilhelm. Java-Album. Landschafts Ansichten. Java. Nach Der Natur Aufgenommen Von Franz Junghuhn. Leipzig: Arnoldische Buchhandlung, 1856.
Kaudern, Walter. I Celibes Obygder. 2 vols. Stockholm: A. Bonniers Förlag, 1921.
Klaasen, Ernest. "Het Nederlandsch Magazijn, Het Nederlandsch Museum En De Honigbij. Drie Geïllustreerde Tijdschriften in De Jaren Dertig En Veertig Van De Negentiende Eeuw1." Jaarboek voor Nederlandse boekgeschiedenis 5 (1998): 133-146.
Knapman, Gareth, Anthony Milner, and Mary Quilty, eds. Liberalism and the British Empire in Southeast Asia. Abingdon: Routledge, 2019. https://doi.org/10.4324/9781315112688
Kolff, Dirk Hendrik. Voyages of the Dutch Brig of War Dourga through the Southern and Little Known Parts of the Moluccan Archipelago During the Years 1825 and 1826. Translated by G.W. Earl. London: James Madden, 1840.
Kolfin, E., and J. van der Veen. Gedrukt Tot Amsterdam: Amsterdamse Prentmakers En -Uitgevers in De Gouden Eeuw Zwolle: Waanders, 2011.
Kuitenbrouwer, Maarten. Dutch Scholarship in the Age of Empire and Beyond. Kitlv - the Royal Netherlands Institute of Southeast Asian and Caribbean Studies, 1851-2011. Leiden: Brill, 2013. https://doi.org/10.1163/9789004260368
Laplace, C.P.T. Voyage Autour Du Monde Per Les Mers De L'inde Et De Chine. Exécuté Sur La Corvette De L'état La Favorite Pendant Les Années 1830, 1831 Et 1832 Sous La Commandement De M. Laplace. Paris: Imprimerie Royale, 1833-35. https://doi.org/10.5962/bhl.title.2488
Les Forces De L'europe, Asie, Afrique Et Amerique ... Comme Aussi Les Cartes Des Côtes De France Et D'espagne. Leiden: Pieter van der AA, 1726.
Lindberg, Christer (2006). "Histories of Anthropology Annual. 2 (1): 264–272. "9. A Swedish Ethnographer in Sulawesi: Walter Kaudern." Histories of Anthropology Annual. 2, no. 1 (2006): 264–272. https://doi.org/10.1353/haa.0.0016
Lintsen, H.W. Geschiedenis Van De Techniek in Nederland. De Wording Van Een Moderne Samenleving 1800-1890. Deel Ii. Gezondheid En Openbare Hygiëne; Waterstaat En Infrastructuur; Papier, Druk En Communicatie. Zutphen: De Walburg Press, 1993.
Loos-Haaxman, J. De. Dagwerk in Indië: Hommage Aan Een Verstild Verleden. Franeke: T. Wever, 1972.
———. Drie Eeuwen Westerse Schilders, Tekenaars, Grafici, Zilversmeden En Kunstnijveren in Nederlands-Indië. Den Haag: Mouton, 1968.
Lorentz, H.A. Zwarte Menschen - Witte Bergen: Verhaal Van Den Tocht Naar Het Sneeuwgebergte Van Nieuw-Guinea. Leiden Brill, 1913.
Marsden, William. The History of Sumatra, Containing an Account of the Government, Laws, Customs, and Manners of the Native Inhabitants with a Description of the Natural Products and a Relation of the Ancient Political State of That Island 3rd ed. London: J. M'Creery, 1811.
Meer, Sjoerd de, ed. Het Zeekaarten Boek, Vroege Zeekaarten Uit De Collectie Van Het Maritiem Museum Rotterdam. Zutphen: Walburg Press, 2007.
Mees, G.F. "Vogelkundig Onderzoek Op Nieuw Guinea in 1828 Terugblik Op De Ornithologische Resultaten Van De Reis Van Zr. Ms. Korvet Triton Naar De Zuid-West Kust Van Nieuw-Guinea." Zool. Bijdr. Leiden 40, no. 30 (. Zool. Bijdr. Leiden 40, 30.xii.1994 :1-64): 1-64.
Meggs, Philip B. A History of Graphic Design. Hoboken: John Wiley & Sons, 1998.
Meyer, A. B., and R. Parkinson. Album Papúa-Typen Ii: Nord Neu Guinea, Bismarck Archipel, Deutsche Salomo Inseln ; Etwa 550 Abbildungen Auf 53 Tafeln in Lichtdruck. 2 vols. Vol. 2. Dresden: Von Stengel und Markert, 1900.
———. Album Von Papua Typen, Neu Guinea Und Bismarck Archipel. Etwa 600 Abbildungen Auf 54 Tafeln in Lichtdruck. Herausgegeben Von A. B. Meyer Und R. Parkinson 2vols. Vol. 1. Dresden: Von Stengel und Markert, 1894.
Meyer, A.B. Album of Filipino-Types. Dresden: Verlag von Stengel & Co, 1885-1904.
———. Album Von Celébes-Typen, Circa 250 Abbildungen Auf 37 Tafeln in Lichtdruck. Dreden: Stengel & Markert, 1889.
———. Album Von Philippinen-Typen. Iii. Negritos, Mangianen, Bagobos : Etwa 190 Abbildungen Auf 3t Tafeln in Lichtdruck. Dresden: Verlag von Stengel & Co, 1904.
Meyer, A.B., and L.W. Wiglesworth. The Birds of Celebes and the Neighbouring Islands. Berlin: R. Friedlander & Shn, 1898. https://doi.org/10.5962/bhl.title.14203
Molhuysen, P.C., and P.J. Blok, eds. Nieuw Nederlandsch Biografisch Woordenboek. 10 vols. Leiden: Sijthoff, 1911-1937.
Müller, Salomon. "Land-En Volkenkunde. Verhandelingen over De Natuurlijke Geschiedenis Der Nederlandsche Overzeesche Bezittingen." edited by C.J. Temminck Natuurkundige Commissie voor Nederlandsch-Indie. Leiden: S. en J. Luchtmans en C.C. van der Hoek, 1839.
———. Reizen En Onderzoekingen in Den Indischen Archipel : Gedaan Op Last Der Nederlandsche Indische Regering, Tusschen De Jaren 1828 En 1836. 2 vols. Amsterdam Muller, 1864.
Netten, Djoeke van. Koopman in Kennis: De Uitgever Willem Jansz Blaeu in De Geleerde Wereld (1571-1638). Zutphen: Walburg, 2014.
Nieuhof, Johannes, and Pieter de Goyer. Die Gesantschaft Der Ost-Indischen Geselschaft in Den Vereinigten Niederla Ndern an Den Tartarischen Cham Und Nunmehr Auch Sinischen Keiser. Amsterdam: Jacob Mörs, 1666.
Nieuwenhuys, Rob, and Frits Jaquet. Java's Onuitputtelijke Natuur. Reisverhalen, Tekeningen En Fotografieën Van Franz Wilhelm Junghuhn. Alphen aan den Rijn: A.W. Stijthof, 1980.
North, Michael. Art and Commerce in the Dutch Golden Age. New Haven: Yale University Press, 1997.
Ormeling, Ferjan. "Colonial Cartography of the Netherlands Indies 1816-1942." In The 22nd International Cartographic Conference A Coruña 2005.
———. "The Topographic Survey of the Netherlands East Indies 1864-1950." In Mapping Asia: Cartographic Encounters between East and West: Regional Symposium of the Ica Commission on the History of Carography, 2017, edited by Mario Cams Martijn Storms, Imre Josef Demhardt, Ferjan Ormelinbg, 1-20. Cham: Springer, 2019.
Ouwehand, Liesbeth. "Chinese Photographers and Their Clientele in the Netherlands Indies, 1890-1940." Wacana: Jurnal Ilmu Pengetahuan Budaya 18, no. 2 (2017): 315-342. https://doi.org/10.17510/wacana.v18i2.587
———. Herinneringen in Beeld. Fotoalbums Uit Nederlands-Indië. Leiden: KITLV, 2009.
Perelaer, M. T. H. Het Kamerlid Van Berkenstein in Nederlandsch-Indie. Leiden: Sijthoff, 1888.
Perelaer, M.T.H. Borneo Van Zuid Naar Noord: Etnografische Roman. Amsterdam: Elsevier, 1881.
———. De Bonische Expeditien, Krijgsgebeurtenissen Op Celebes in 1859 En 1860. 2 vols. Leiden: G. Kolff, 1872.
Perelaer, T.H. Baboe Dalima or, the Opium Fiend. London: Vizetelly, 1888.
Perera, Sasanka. "Photography and the Ethnographic Method." In Oxford Research Encyclopedia of Education. Oxford: https://doi.org/10.1093/acrefore/9780190264093.013.379, 2019.
Petrou, Marissa H. "Apes, Skulls and Drums: Using Images to Make Ethnographic Knowledge in Imperial Germany." The British Journal for the History of Science 51, no. 1 (2018): 69-98. https://doi.org/10.1017/S0007087418000018
Pieters, Florence F.J.M., and Jaap de Visser. "The Scientific Career of the Zoologist Max Wilhelm Carl Weber (1852-1937)." Bijdragen tot de Dierkunde 62, no. 4 (1993): 193-214. https://doi.org/10.1163/26660644-06204001
Poole, Robert M. Explorers House: National Geographic and the World It Made. New York: Penguin, 2004.
Postma, P. "Mooi Makassar." Weekblad van Indie 17, no. 24 (1920): 388-9.
Quamman, David. "In Retrospect: The Malay Archipelago." Nature 496 (2013): 165-166. https://doi.org/10.1038/496165a
Raat, A.J.P. "Alexander Von Humboldt and Coenraad Jacob Temminck." Zoologische Bijdragen 21 (1976): 19-38.
Raj, Kapil. "18th‐Century Pacific Voyages of Discovery, "Big Science", and the Shaping of an European Scientific and Technological Culture." History and Technology 17, no. 2 (2000): 79-98. https://doi.org/10.1080/07341510008581986
Rediker, Marcus, and Glyn Williams. "The Prize of All the Oceans: The Dramatic True Story of Commodore Anson's Voyage Round the World and How He Seized the Spanish Treasure Galleon." Albion: A Quarterly Journal Concerned with British Studies 34 (2003): 110.
Rees, W.A. van. De Bandjermasinsche Krijg Van 1859-1863. 2 vols. Arnhem.: D.A. Thieme, 1865.
Reinwardt, C.G.C. Reis Naar Het Oostelijk Gedeelte Van Den Indischen Archipel, in Het Jaar 1821. Amsterdam: F.Muller, 1858.
Riedel, J. G. F. "De Vestiging Der Mandaren in De Tomini-Landen." Tijdschrift voor Indische Taal-, Land- en Volkenkunde 19 (1870): 555-564.
Riedel, J. G. F. . De Sluik-En Kroesharige Rassen Tusschen Selebes En Papua. Gravenhage: M. Nijhoff, 1886.
Rivière, Serge Marc. A Woman of Courage: The Journal of Rose De Freycinet on Her Voyage around the World 1817-1820. Canberra: National Library of Australia, 1996.
Rochette, Marc. "Dumont D'urville's Phrenologist: Dumoutier and the Aesthetics of Races." The Journal of Pacific History 38, no. 2 (2003): 251-268. https://doi.org/10.1080/0022334032000120567
Roever, Arend de, and Bea Brommer. Grote Atlas Van De Verenigde Oost-Indische Compagnie. Vol. Iii. Indische Archipel En Oceanië: Malay Archipelago and Oceania. Voorburg: Asia Maior, 2008.
Rosenberg, C.B.H. Reistogten in De Afdeeling Gorontalo Gedaan Op Last Der Nederlandsch Indische Regering. Amsterdam: Frederick Muller, 1865.
Rosenberg, Carl Benjamin Hermann. Reis Naar De Zuidoostereilanden: Gedaan in 1865 Op Last Der Regering Van Nederlandsch-Indië. The Hague: Nijhoff, 1867.
———. Reistochten Naar De Geelvinkbaai of Nieuw-Guinea. The Hague: Nijhoff, 1875.
Rouffaer, G. P. Ethnographie Van De Kleine Soenda Eilanden in Beeld. The Hague: KITLV, 1937.
Rumpf, Georg Eberhard. D'amboinsche Rariteitkamer. Amsterdam: Francois Halma, 1741.
Scalliet, Marie-Odette. Pictures from the Tropics : Paintings by Western Artists During the Dutch Colonial Period in Indonesia. Amsterdam: Wijk en Aalburg, 2001.
Schilder, G.G., F.J. Ormeling, P.P.W.J. van den Brink, J. Moerman, and H. Ferwerda. Grote Atlas Van De Verenigde Oost-Indische Compagnie. Vol. I. Atlas Isaak De Graaf. Voorburg: Asia Maior KNAG, 2006.
Schilder, Günter. Early Dutch Maritime Cartography: The North Holland School of Cartography (C.1580-C.1620), Brill, Hes & De Graaf. Leiden 2017.
Schmidt, Benjamin. Inventing Exoticism: Geography, Globalism, and Europe's Early Modern World. Philadelphia: University of Pennsylvania Press, 2015. https://doi.org/10.9783/9780812290349
Schouten, Maria J. C. "Nineteenth-Century Ethnography in West Timor and the Wider World: The Case of J. G. F. Riedel." Journal of Asian History 48, no. 2 (2014): 205-225. https://doi.org/10.13173/jasiahist.48.2.0205
Sens, Angelie. "Dutch Debates on Overseas Man and His World, 1770-1820." In Colonial Empires Compared: Britain and the Netherlands, 1750-1850. Papers Delivered to the Fourteenth Anglo-Dutch Historical Conference, 2000, edited by Bob Moore and Henk F. K. van Nierop. Aldershot: Ashgate, 2003.
———. 'Mensaap, Heiden, Slaaf'. Nederlandse Visie Op De Wereld Rond 1800. Den Haag: SDU, 2001.
Sonnerat, Pierre. Collection De Planches Pour Servir Au Voyage Aux Indes Orientales Et a La Chine. Paris: Dentu, 1806. https://doi.org/10.5962/bhl.title.121762
———. Voyage À La Nouvelle Guinée, Dans Lequel on Trouve La Description Des Lieux, Des Observations Physiques & Morales, & De Détails Relatifs À L'histoire Naturelle Dans Le Regne Animal & Le Regne Végétal. Paris Chez Ruault, Libraire, 1776.
Sun, Jing. "The Illusion of Verisimilitude: Johan Nieuhof's Images of China, Leiden University Pdf." Leiden, 2013.
Sutherland, Heather. "By the Numbers: Makassar's Trade, Centralised Statistics and Local Realities." Masyarakat Indonesia 39, no. 2 (2013): 289-306.
Thomaz, Luis Filipe F. R. "The Image of the Archipelago in Portuguese Cartography of the 16th and Early 17th Centuries." Archipel 49 (1995): 79-124 https://doi.org/10.3406/arch.1995.3038
Thompson, C. . "Nineteenth-Century Travel Writing." In The Cambridge History of Travel Writing, edited by N. Das and T. Youngs. Cambridge Cambridge University Press, 2019. https://doi.org/10.1017/9781316556740.008
Troelstra, Anne S. Bibliography of Natural History Travel Narratives. Zeist: KNNV 2016. https://doi.org/10.1163/9789004343788
Valentijn, François. Oud En Nieuw Oost-Indiën. 5 vols. Dordrecht: Joannes van Braam, 1724.
Van Der Aa, P. J. B. C. RobidÉ. "Een Nieuwe Atlas Van Nederlandsch-Indie." Bijdragen tot de Taal-, Land- en Volkenkunde van Nederlandsch-Indië 35, no. 1 (1886): 101-126. https://doi.org/10.1163/22134379-90000333
Velde, C.W.M. van de. Gezigten Uit Neêrlands Indië, Naar De Natuur Geteekend En Beschreven. Amsterdam: Buffa, 1846.
Velde, Charles William Meredith van de. Narrative of a Journey through Syria and Palestine in 1851 and 1852. 2 vols. Edinburgh: Blackwood & Sons, 1854.
Velde, Paul van de, and Jan Just Witkam. Nederlands-Indië Op Papier : De Wetenschappelijke Beschrijving Van De Archipel Door P.J. Veth (1814-1895) En Enkelen Van Zijn Tijdgenoten in Boeken, Prenten, Foto's, Kaarten En Brieven Leiden: Legatum Warnerianum, 1995.
Ver Huell, Quirijn Maurits Rudolph. Herinneringen Aan Een Reis Naar Oost-Indië. Reisverslag En Aquarellen Van Maurits Ver Huell, 1815-1819. Edited by Chris F. van Fraassen and Pieter Jan Klapwijk. Zutphen: Walburg, 2008.
Verhandelingen Van Het Bataviaasch Genootschap Der Kunsten En ..., Volume 3. Rotterdam/Amsterdam: Reinier Arrenberg/Johannes Allart, 1787.
Verkuylen, C.M.F. Schilderachtige Ophelderingen : Het Gezagsherstel in Nederlands-Indië in De Tekeningen En Reisherinneringen Van Maurits Ver Huell (1787-1860). Arnhem: Gemeentemuseum Arnhem, 1989.
Veth, P.J. Midden-Sumatra. Reizen En Onderzoekingen Der Sumatra-Expeditie, Uitgerust Door Het Aardrijkskundig Genootschap, 1877-1879, Beschreven Door De Leden Der Expeditie, Onder Toezicht Van Prof. P.J. Veth. Leiden: Brill, 1881. https://doi.org/10.5962/bhl.title.119451
Visscher, J.T. Canter. Alphabetisch Register Op Den Inhoud Van Werken Betr. 'S Rijks Overzeesche Bezittingen En Kolonien : Uitgegeven Onder Toezigt Van Het Indisch Genootschap Te's Gravenhage: Het Tydschrift Voor Nederlandsch Indie, 1838-1860. 's Gravenhage H.C. Susan, 1861.
W.A. van Rees, and M.T.H. Perelaer. Nederlandsch-Indië Leiden: A,W. Sihthoff, 1881-83.
Wachlin, Steven. "Indonesia." In Encyclopedia of Nineteenth-Century Photography, edited by John Hannavy, 739-741. New York: Routledge, 2008.
———. Woodbury and Page. Photographers Java. Leiden: KITLV, 1994.
Wachlin, Steven. "'Salzwedel' " In In Het Voetspoor Van Louis Couperus. Pasoeroean Door De Lens Van Salzwedel, edited by Karin Peterson, 112-118. Amsterdam: KIT, 2009.
Wagner, Kim. "Confessions of a Skull: Phrenology and Colonial Knowledge in Early Nineteenth-Century India." History workshop journal : HWJ 69 (2010): 27-51. https://doi.org/10.1093/hwj/dbp031
Wallace, A.R. "The Head-Hunters of Borneo: A Narrative of Travel up the Mahakkam and Down the Barito; Also Journeyings in Sumatra " Nature 25, no. 3=4 (1881).
Wallace, Alfred Russel. The Annotated Malay Archipelago. Edited by John van Wyhe. Singapore: NUS Press, 2017.
Wassén, Henry. "In Memoriam: Walter A. Kaudern 1881–1942." Ethnos. Journal of Anthropology 7, no. 4 (1942): 171-175. https://doi.org/10.1080/00141844.1942.9980610
Weber, Andreas. "Collecting Colonial Nature: European Naturalists and the Netherlands Indies in the Early Nineteenth Century." BMGN - Low Countries Historical Review 134, no. 3 (2019): 72-95. https://doi.org/10.18352/bmgn-lchr.10741
———. "Encountering the Netherlands Indies: Caspar G.C. Reinwardt's Field Trip to the East (1816–1822)." Itinerario 33, no. 1 (2009): 45-60. https://doi.org/10.1017/S0165115300002709
———. Hybrid Ambitions. Science, Governance, and Empire in the Career of Caspar G.C. Reinwardt (1773-1854). . Leiden: Leiden University Press, 2012.
Weber, Andreas, and Sylvia van Zanen. Kunstenaar Op Java. De Reisdagboeken En Natuurtekeningen Van Pieter Van Oort (1826-1832). Zutphen: Walburg Press, 2020.
Weber, Max, ed. Siboga Expeditie, Uitkomsten Op Zoölogisch, Botanisch En Geologisch Gebied. Monographie Ii Tydeman, G.F. Description of the Ship and Appliances Used for Scientific Exploration, Leiden, 1902.
Wentholt, Arnold, ed. In Kaart Gebracht Met Kapmes En Kompas; Met Het Koninklijk Aardrijkskundig Genootschap Op Expeditie Tussen 1873 En 1960. Heerlen/Utrecht.: ABP/KNAG, 2003.
Weston, Nathaniel Parker. "Scientific Authority, Nationalism, and Colonial Entanglements between Germany, Spain, and the Philippines, 1850 to 1900." University of Washington, 2012.
Wille, Robert-Jan. "Een Indische Geschiedenis Van Symbiose En Parisitimse." Groniek 200 (2013): 295-316.
Williams, Glyn. "George Anson's Voyage Round the World: The Making of a Best-Seller." The Princeton University Library Chronicle 64, no. 2 (2003): 289-312. https://doi.org/10.25290/prinunivlibrchro.64.2.0289
Wyhe, John van, ed. The Annotated Malay Archipelago by Alfred Russel Wallace. Singapore: NUS Press, 2014.
Zandvliet, Kees. "Mapping the Dutch Overseas World in the Seventeenth Century." In The History of Cartography, Volume 3: Cartography in the European Renaissance,, edited by David Woodward, 1433-1463. Chicago: University of Chicago, 2007.
Ends