Stone
Carnelians: Carnelians: Four beads of red carnelian were found in TP1, spit 9, and one in TP1 spit 6. They are not perfectly spherical; they are rather irregular in shape. They measure approximately 2 cm in diameter. These were the first carnelian beads found in Singapore; none were found at FTC, PHC, CCT, or EMP. It is highly probable that these were imported from India, although an origin in Myanmar cannot be completely discounted. One of these beads has been loaned to the Indian Heritage Centre in Singapore and is on display there.
Photographs:
Trough: A unique object (00645) was found in TP1 spit 11A. It has been carefully shaped like a U. The inside of the U is very smooth, whereas the outside is quite rough. A ferrous concretion has become affixed to one corner of the object. No obvious analogue with any other known artifact comes to mind to enable us to speculate about its use. The fact that it was found in the context of much evidence for metal-working suggests that it played some role in that activity.
Photographs:
Peg: An object found in TP3 spit 7 consists of an elongated cone-shaped piece of stone, carefully smoothed, with a square shape at the end opposite to the point of the cone. Two similar items were found at STA. One of the latter has a human head at one end. The other is almost identical to that found at SCC: both are broken at the broad end, but have a sort of ledge at the broken end. Similar objects have been found at Kota Cina and Merbok, Kedah. Their purpose is unknown, but the workmanship expended on them and the choice of special material suggest that they had some particularly important function.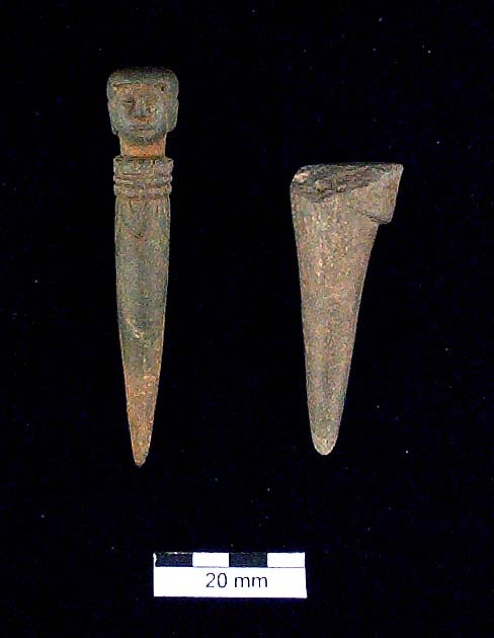 Photographs:
Metal
No metallurgical analysis has been performed on the metal artifacts found at SCC. The only site in Singapore to which intensive metallurgical analytical techniques have been applied is the PHC site. That research demonstrated that copper was being worked at PHC to make wire and fish hooks. Artifacts identified visually as copper, tin/lead, and iron, and tools such as crucibles for smelting metal found at SCC strongly suggest that all these metals were being processed at the Padang.
Chinese coins found at the site include numerous examples which had been partially melted by heat. This suggests that the coins were being melted down for their metallic content (copper, tin, and lead).
Some metal artifacts found in the Temasek layer were made in the colonial period. These small items appear to have worked their way down into the older strata through natural processes such as holes made by worms, rootlets, and other bioturbation agents. Particularly obvious examples consist of percussion caps. Some contamination of the Temasek assemblage is inevitable in sandy soil such as was encountered here. The proportion of identifiable colonial period items in the Temasek stratum is however quite small.
Chinese Coins
Chinese coins of the Song dynasty have been found in every Temasek-period site in Singapore (Miksic 2013). They were obviously in circulation and used in everyday exchanges. At SCC, 27 intact ancient Chinese coins and 9 fragmentary specimens were recovered. Nineteen coins of the colonial and modern period were also found, all in the post-16th century stratum (40-60 cm below ground level). Almost all of the Chinese coins date from the Northern Song period (960-1126). This does not prove that they were brought here at that time. Most coin hoards from the Yuan period such as those on the Pulau Nipah shoal just south of Singapore consist mainly of Northern Song coins. Several of the Chinese coins were found in stacks. They were meant to be strung in units of 66, thus the square hole in the middle. Their distorted condition indicates that smelters of copper/bronze put them into the crucible while they were still strung together. This is the only site in Singapore where coins in such condition have been discovered.
Coin Finds, SCC
Copper/Bronze
No metallurgical analysis of these items has been conducted. The greenish oxidation and similarity in shape to examples from other sites indicates that these artifacts are either copper or an alloy of copper mixed with tin and/or lead.
Bell: small bronze bells were common artifacts in pre-Islamic Southeast Asia. They were often worn by monks. Another bell decorated with a human face was found at PHC. Three bells were found at SCC. An intact example was unearthed in TP1 spit 8. It is quite small, approximately a centimeter in diameter, weighing 2 grams. It is equipped with a loop enabling it to be suspended from a string or chain.
Photographs:
Handle: a bow-shaped copper rod with curled ends found in TP1 spit 10A would have been used as a handle for a kettle or object of similar shape. Similar handles are known from objects in museums in Indonesia where they are dated to the Classic period (600–1400 CE).
Photographs:
Wire: Numerous examples of twisted copper wire were discovered at PHC. They could have been used as leaders for fishing line, in conjunction with copper hooks found at that site. No hooks were found at SCC, but a short length of twisted copper wire was recovered.
Photographs:
Two links of a chain made of copper wire were also found.
Photographs:
Prills: Small copper spheres were found at SCC and also at PHC. Analysis of one of these from PHC showed that it consisted of almost pure copper (Shah Alam 1997). These have been classified as prills, which are residue from the melting of copper ore during the production of various items (metal objects 5). Examples were found in TP1 spit 8, TP2 spit 7 and TP2 spit 7.
Photographs:
Copper slag: Small fragments of greenish pieces of distorted metal were found in several contexts, in TP1 spit 11, 12, and spit 14, TP3 spit 7. These are typical byproducts of copper working.
Photographs:
Rods and Bars: Short pieces of long thin rods of copper thicker than wire were also recovered. Some were round in cross-section; others were polygonal. One of these in photo metal objects 6 is twisted; it may have been produced by being drawn through a metal plate, though it could also have been forged. These were found in TP1 spit 7, 9
Photographs:
Plates/Sheets: Thin flat pieces of copper were also discovered, in TP1 Spits 8 and 9, TP2 spit 8, TP3 spits 6 and 7. These are most likely remnants of material trimmed from objects either being recycled or being produced on the site.
Photographs:
Iron: Iron was found in almost every spit in the Temasek period stratum. Iron artifacts from this context take two forms: finished artifacts, and slag. It is sometimes difficult to discern which is which, since iron corrodes quickly in the conditions of the equatorial soils. Some slag is easy to identify if it contains a large quantity of silica. Other irregularly-shaped objects may either be slag nodules or rusted objects. X-ray study can sometimes detect the original shape of the iron artifacts, but this has not been performed for the SCC artifacts. General shapes of objects such as pointed nails or thin plates can sometimes be discerned (e.g. photo DSC09712; the object at upper right is clearly a piece of slag, as seen from its spongy texture).
Photographs:
Probable Artifacts: These photographs were taken before conservation was conducted.
Iron Slag. Fragments of slag are commonly found in most Temasek period sites in Singapore. Their ubiquity suggests that many small-scale iron-workers lived in Temasek.
Photographs:
Lead or Tin: A lead statue of a man riding a winged horse was discovered at EMP. Lead and tin are both found in Sumatra. Lead ingots were transported on a number of shipwrecks which sank in the Riau archipelago. It is not surprising that lead and tin objects are found at SCC. It is difficult to tell the difference between lead and tin visually; both oxidize in approximately the same way. A miniature cart wheel with 12 spokes was found in TP 2 Spit 8 on April 27. The wheel is relatively simple, but the hub is depicted in some detail. Like the statue of the headless horseman from EMP, no analogous object has been reported from any other site of this period in Southeast Asia.
Photographs:
Other lead/tin items from the site include shapeless lumps:
Photographs:
More regularly-shaped objects such as a cylindrical object from TP2 spit 9 and a spherical item from TP2 spit 8
Photographs:
Glass
Temasek-period glass artifacts at SCC consist of 6 beads, 6 fragments of bangles, and 10 shards of bottles. The beads belong to four different types. Two are wound beads, which were meant to be cut into individual beads, but have not been separated from each other. One small blue bead has been separated from its original coil. A yellow bead consists of three segments; a blue-green bead consists of four segments. They are about 4 mm in diameter. Another bead in the shape of a barrel 15 mm long is made of white opaque glass with black spots. Another bead is oblong shaped, 2 cm long, opaque white in color. Another bead is spherical in shape, blue in color. It is much larger, almost 1 cm in diameter. The bead has split in half, of which only one half remains. This may have occurred during the process of stringing or sewing the bead onto some other article.
Two types of bangles are represented. Five fragmentary bangles are of probable Chinese manufacture. They are hemispherical in cross-section. Three are green, one is white, and the other has a green core with yellow stripes. Two fragments represent bangles of probable Indian origin. These bangles are more complex: they consist of glass of three colors, brown, yellow and white, and are constructed in a complex pattern. They were made by heating separate rods of glass of different colors (see photo DSC07344).
The shards of vessels (probably small bottles) are translucent dark blue, light blue, and dark green. One has a design of wavy lines of white on a blue background (photograph glass 1). Five shards of yellow translucent glass (Yellow glass 2) probably belong to the same vessel. Some are highly distorted by heat.
The only other Temasek-period site in Singapore with such a variety of glass is Fort Canning. Glass was much more common there, with over 10,000 beads. Over 1,000 pieces of glass distorted into irregular blobs were also found in one part of that site. It has been hypothesized that the shards were being recycled to make bangles, and that the beads were being strung or sewn on the site, since many fragmentary beads were also found there. The discovery of glass at SCC suggests that some form of glass recycling and stringing may have been conducted at the Padang too. The discovery of one blob of red glass at SCC reinforces this possibility.
The origin of the glass is a mystery. Technical tests of the composition of the glass strongly suggests that it was made in China, but no such glass has yet been recorded from any site in China of the Song-Yuan period. For information on these analyses, most of which were conducted at the Physics Department of the National University of Singapore, and general information on Chinese glass, see An 1996; Borell [-Seidel} 2001, 2003, 2010; Dussubieux 2010; Edwards McKinnon and Brill 1987; Francis 1985, 1986a, 1986b; Miksic 2017a; Miksic et al 1994, 1996, 2000; Yi and Tu 1991. The
Photographs:
Other Remains (Organic Materials)
Small amounts, no more than a few grams, of bone fragments and charcoal were found in almost all spits of the three squares. No large concentrations were noted in any of them, however. The largest concentration consisted of 8 conch shells weighing 267 grams in TP3 level 7. One or two fragments which may be turtle carapace were also recovered.